10 UK Export News You Might've Missed – Week 34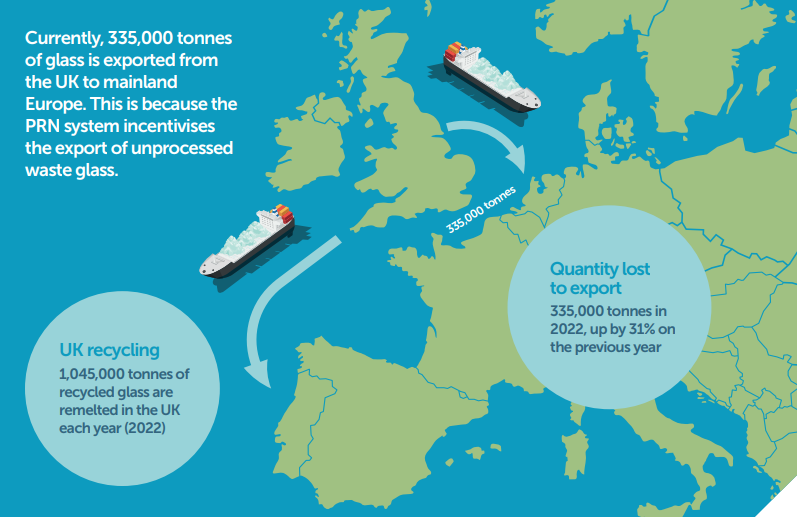 (Also published on LinkedIn)
In this edition of Export News from Expordite, we'll cover the top 10 UK export news and headlines from week 34 of 2023 — August 21st-27th, 2023.
Key News:
HMRC Announces Phased Approach to CDS Export Migration in a Major Update
UK cullet export to Europe increases by 31%
First UK sheep genetics exports shipped to the US
General Export News
"After listening to feedback from industry, HMRC is implementing a phased approach for businesses moving to CDS for exports.
During the first phase, HMRC and its software developers will support selected high-volume declarants to move to CDS for exports by Thursday 30 November 2023.
The second stage of this approach will see all other businesses move to CDS for exports by Saturday 30 March 2024.
This new approach will enable HMRC and delivery partners to build on the existing IT testing as well as undertake additional performance analysis while businesses with the existing IT functionality start to migrate. It will also enable HMRC and their delivery partners to better support export declarants to make a smooth migration to CDS."
Source: GOV.UK (also read our blog post on the update)
"In August 2023, a UK company was fined £1 million by HM Revenue & Customs (HMRC) in relation to the unlicensed trade of goods in breach of The Russian (Sanctions) (EU Exit) Regulations 2019".
"This is the second time this year the government has announced penalties for non-compliance with export controls, with HMRC having unveiled over £3m in fines in February 2023″
The Institute of Export & International Trade
Source: GOV.UK
"With the UK generating over 222 million tonnes of waste each year, recycling and waste management are booming sectors. They also export to a growing international market, helping this country manage its waste more sustainably while at the same time supporting jobs, boosting trade and helping to grow the economy. This is something which Ward, one of the UK's largest independently owned recycling firms, can attest to.
The fourth-generation family business achieved record turnover and international sales in 2023 at £312m, thanks in part to backing from UK Export Finance (UKEF), the government department responsible for issuing loans, guarantees and insurance. This service is available to ensure that no viable export fails for want of finance."
Source: GOV.UK
"Asda has become the first supermarket to start "Not for EU" labelling on some of its food in Northern Ireland.
The labelling is a requirement of the Windsor Framework, the revised Brexit deal for Northern Ireland.
It is not officially required until the start of October and is due to be rolled out across the rest of the UK in October 2024."
Source: BBC News
"UK trade talks with India are reaching their "final but trickier" stages, according to government sources.
Trade Secretary Kemi Badenoch is visiting India for a meeting of G20 trade ministers this week.
There has been speculation about whether a trade deal may be struck before Rishi Sunak visits India in September.
But the BBC has been told there is currently no expectation in government a full deal will be agreed by then.
Government sources said they hoped a deal could now be "months" away, but they stressed there were still some "big nuts to crack".
Source: BBC News
"Exports Minister Lord Offord is in Uzbekistan to expand on UK-Uzbek relations and find untapped business opportunities. With the wider Central Asian region expected to grow by 5.4 per cent in 2024, Uzbekistan offers clear and tangible opportunities for UK businesses.
During a three-day mission to Uzbekistan, the Minister will meet government counterparts and business leaders and focus on infrastructure and mining opportunities for UK exports to boost our trade relationship.
In addition to promoting UK exports, a key objective of the mission is to protect free trade and the UK is proud to support Uzbekistan's accession to the World Trade Organisation."
Source: GOV.UK
"British Glass found that the export of glass cullet from the UK to mainland Europe rose by 79,000 tonnes last year.
The amount of cullet being exported from the UK to mainland Europe is increasing year-on-year.
Currently, a substantial amount of waste glass is exported from the UK to mainland Europe, which has negative impacts on the environment and economy.
The export of glass cullet rose by 79,000 tonnes last year – a 31% increase compared to 2021.
Local glass recycling can decrease the use of non-renewable resources, reduce carbon emissions, and open opportunities for local companies to market their participation in the circular economy."
Source: Glass-International
Food Export News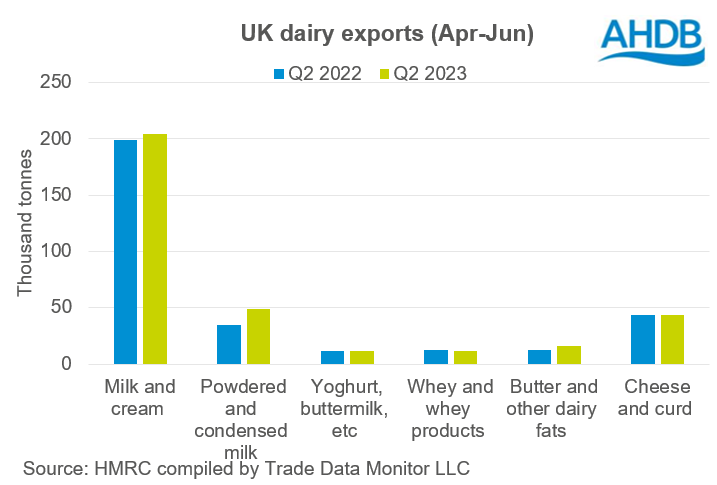 "Export volumes of dairy products from the UK have increased in the second quarter of 2023 year-on-year. Total export volume for Q2 2023 was 336,000 t, an increase of 22,300 t from Q2 2022. The level of EU exports increased by 10,900 t while that to non-EU destinations increased by 11,400 t.
Powdered and condensed milk products saw the largest year-on-year increase, up by 14,400 t (42.0%). This was driven by exports to both EU and non-EU nations. Exports of butter and other dairy fats increased by 27% to 16,400 t. Milk and cream and cheese and curd exports noticed a marginal increase of 2.6% and 0.2% respectively during the period. Whey and whey products and yoghurt bucked the trend recording lower exports of 11,700 t (-6.3%) and 11,400 t (-0.5%) respectively.
In the export basket, EU nations constitute nearly 90% of the total exports. Countries including Ireland, Netherlands, France, Belgium, Poland and Germany are the major recipients. In Q2 2023, exports to Belgium increased by 38% to 12,700 t on Q2 2022. Exports to France increased by 12% to 11,500 t and that to Ireland increased by a meagre 2% to 223,600 t compared to Q2 2022."
Source: AHDB
"The first UK ovine embryos have been shipped as part of the wider access win which has also enabled lamb exports to the United States.
It was the culmination of a collaborative effort between the UK sheep meat industry, the UK Export Certificate Partnership (UKECP), UK Government, and AHDB.
The shipment, valued at approximately £400,000, is the first of what is hoped to be a regular trade in ovine genetics, meeting strong demand from US customers eager to source direct from the UK. Using imported UK embryos will allow US producers to gain full pedigree status for a breed within one generation."
Source: AHDB
"We will be exploring opportunities for UK pork exports to Chile amid an anticipated growth in consumer demand at the Espacio Food and Service trade show in Santiago next month.
The show will enable us to meet with prospective importers and strengthen relationships with existing customers.
The total volume of UK pork exports to Chile in the first half of this year was up 48.9% on the year, with the value increasing 94.7% on the same period in 2022 following market access being granted. In particular, pig offal exports in the first half of this year were up 32.3% on the year in volume and 138.6% in value."
Source: AHDB
Want to get more international trade content straight to your inbox?
Sign up to Expordite Updates or come see us at Going Global Live in November!

Photo credit: The feature image has been provided by British Glass.