10 UK Export News You Might've Missed – Week 33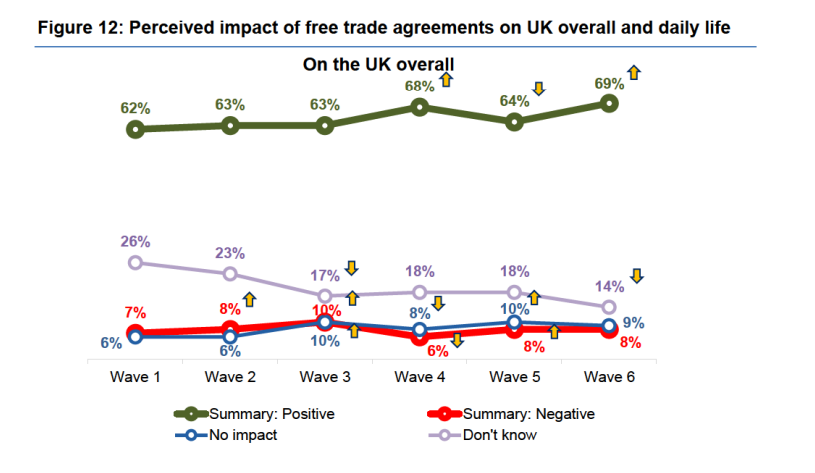 In this edition of Export News from Expordite, we'll cover the top 10 UK export news and headlines from week 33 of 2023 — August 4th-20th, 2023.
Key News:
British people support free trade agreements, latest government tracker finds
Non-EU trade boosts UK exports by 1.8%, imports drop
Craft beer boom ends as more than 100 UK firms go bust
General Export News
"Neil takes up his post at an exciting time for UK-Kenya relations, with the relationship between both countries and peoples going from strength to strength.
Rapid progress is being made across all pillars of the Strategic Partnership, signed in 2020 between the UK and Kenya, tackling climate change, increasing mutual prosperity and sustainable development, building stronger people-to-people links, and strengthening vital security cooperation.
The UK is the largest international investor in Kenya and is Kenya's fifth largest export market. Progress on key green infrastructure projects, backed by UK investment, is securing Kenya's place as a climate leader in the region. The upcoming Africa Climate Summit and next year's UK-African Investment Summit will provide further opportunities to strengthen this vital partnership to the benefit of both Kenyans and British people."
Source: GOV.uk
"The majority of the British public support the country signing free trade agreements (FTAs) with countries outside of the EU, a government survey has found.
The sixth 'wave' of the public attitudes to trade tracker (PATT), which was originally run by the Department for International Trade (DIT) but is now conducted by its successor, the Department for Business and Trade (DBT), was published today (17 August).
It found that over two thirds of the public support FTAs with non-EU countries (67%), up slightly from the previous PATT ('wave 5'), which was published in November last year. The all-time peak of support for FTAs came at 70% in February 2022 ('wave 4')."
Source: The Institute of Export & International Trade
"Britain's economy has barely grown for 18 months. The level of activity today is pretty much the same as it was when Russia invaded Ukraine in February 2022 and gave an added boost to already strong inflationary pressure.
The scale of the challenge is highlighted by the trade figures released alongside Friday's growth data. In the three months to June, the UK's deficit in goods stood at more than £51bn, while the deficit for goods and services combined was £19bn. Time was when the trade figures were seen as a critical barometer of the nation's economic health. Strangely, though, interest in what has been happening to imports and exports has waned even as the UK's performance has markedly deteriorated.
The ONS figures reflect the fact that the UK is predominantly a service sector economy, making up about 80% of national output. They also show just how internationally competitive this sector is: exports of services stood at £400bn last year – double the figure for 2010.
But the success in selling services cannot make up for the widening gap between the goods Britain exports and the goods it imports. In part this is due to the fact that the UK is now a net importer of energy, but to a much larger extent it is the result of no longer having a presence in many industrial sectors. The ONS says that since leaving the EU, there has been no real difference in the UK's export performance: it has been equally bad across the board."
Source: The Guardian
"British firms are increasingly pessimistic about the benefits of post-Brexit free trade deals, according to the government's own research.
The Department for Business and Trade's survey of more than 3,000 companies revealed that three out five (58 per cent) now think the free trade deals will have no positive impact on their business.
That's up from 54 per cent in the previous year – a sign of growing dismay about the opportunities the agreements can offer, despite promises that Brexit can help boost "global Britain".
Less than one third (31 per cent) of businesses believe trade deals would have a positive effect, down from 33 per cent the previous year."
Source: The Independent
"UK's goods exports rose by 1.8 per cent in value terms or by 2.3 per cent in volume terms, excluding inflation, mainly due to rises in exports to outside the European Union (EU), whereas overall goods import values fell by 5.8 per cent month-on-month (MoM) or by 2.5 per cent in volume terms.
EU goods exports fell in value terms by 0.3 per cent but rose by 0.7 per cent in volume terms, while imports rose by 3.2 per cent—3.6 per cent in volume terms excluding inflation, the Office of National Statistics (ONS) said in a press release.
Non-EU goods exports rose by 3.8 per cent in value terms, 3.9 per cent in volume terms excluding inflation, while imports of the same fell by 15.9 per cent, 9.9 per cent in volume terms, largely driven by lower gas and crude oil imports."
Source: Fibre2Fashion
Food Export News
"The latest HMRC trade data was released this week, including volumes exported and imported for the full 2022/23 season (July 2022 – June 2023). So, did the full season data show what was expected?
As is well known, the UK held a substantial exportable surplus of feed wheat last season (2022/23), resulting in expectations of a firm export pace. Full season data (July – June) showed UK wheat exports (including durum) totalled 1.576 Mt. This is the greatest volume of UK wheat exports in a season since 2015/16, and well above the five-year average (2017/18 – 2021/22) of 546.4 Kt.
UK barley exports for the 2022/23 season totalled 1.116 Mt. This is slightly below the five-year average of 1.162 Mt, and broadly in line with AHDB's May estimate of 1.150 Mt.
Oat exports in the 2022/23 season totalled 171.9 Kt, more than double the five-year average of 69.9 Kt, and the greatest volume since the mid-90s."
Source: AHDB
"The latest quota position for the allocated TRQ (as of 8 August 2023) sits at 669 t (6%) of beef shipped from Australia to the UK, alongside just over 100 t of the first-come-first-served quota (1%). Current HMRC data shows that the UK imported 123 t of fresh/frozen beef for the month of June, which is an increase of 27 t from May, and up 44 t from June 2022. 112 t of beef imported from Australia was fresh boneless, with the remainder as frozen. Therefore, any increases in product from Australia have not arrived in the UK in June, according to HMRC, but we will continue to monitor the estimated shipped quantities from the TRQ.
Looking into the volumes shipped from Australia to the UK according to the Department of Agriculture, Fisheries and Forestry (DAFF), just over 300 tonnes of beef product have been sent in July, which we will be monitoring when HMRC data is available in coming months. Even with these elevated trade levels, volumes from Australia are still considerably lower than our key trading partners such as Ireland, as noted above."
Source: AHDB
"The latest statistics from the Department for Transport show the Port of Ipswich exported 631,000 tonnes of agricultural commodities in 2022 – 23pc of UK major ports' market share.
It once again made it the top port for agricultural exports, beating London, Bristol and Great Yarmouth to reclaim the title.
Port owner ABP (Associated British Ports) said Ipswich's performance "reflects its key location at the heart of the Suffolk and North Essex agricultural community", and the region's role as the nation's breadbasket."
Source: East Anglian Daily Times
"The UK snacking arm of Belgian group Lotus Bakeries saw sales jump 25% in the first half of 2023 as its brand continued to grow share in the UK and push into new markets
Lotus Natural Foods, which includes the Bear, Nakd and Kiddylicious brands, grew sales by more than 25% at constant exchange rates, driven by international growth.
Brand sales outside the UK were up by more than 30% in the first six months of the year and now make up almost a third of the division's overall turnover."
Source: The Grocer
"Post-Brexit trading arrangements with European Union countries meant that Bone Machine's craft beers needed to be accompanied by expensive and time-consuming paperwork.
"Everyone was saying 'it's too complicated to import anything from the UK any more'," Karjalainen said. "In terms of pure output, that was about 30% to 40% of what we made. In terms of income, it was probably more than half."
Bone Machine is one of more than 100 small brewers that have been forced out of business in the past 18 months, hit by a combination of Brexit, the pandemic and the cost of living crisis and now threatened by changes to beer duty laws. In June, the accountancy firm Mazars found that 45 small brewers had gone into liquidation, but many more have either been sold or swallowed by rivals."
Source: The Guardian
Want to get more international trade content straight to your inbox?
Sign up to Expordite Updates or come see us at Going Global Live in November!
Photo credit: the feature image has been provided by the Department of Business and Trade.