10 UK Export News You Might've Missed – Week 32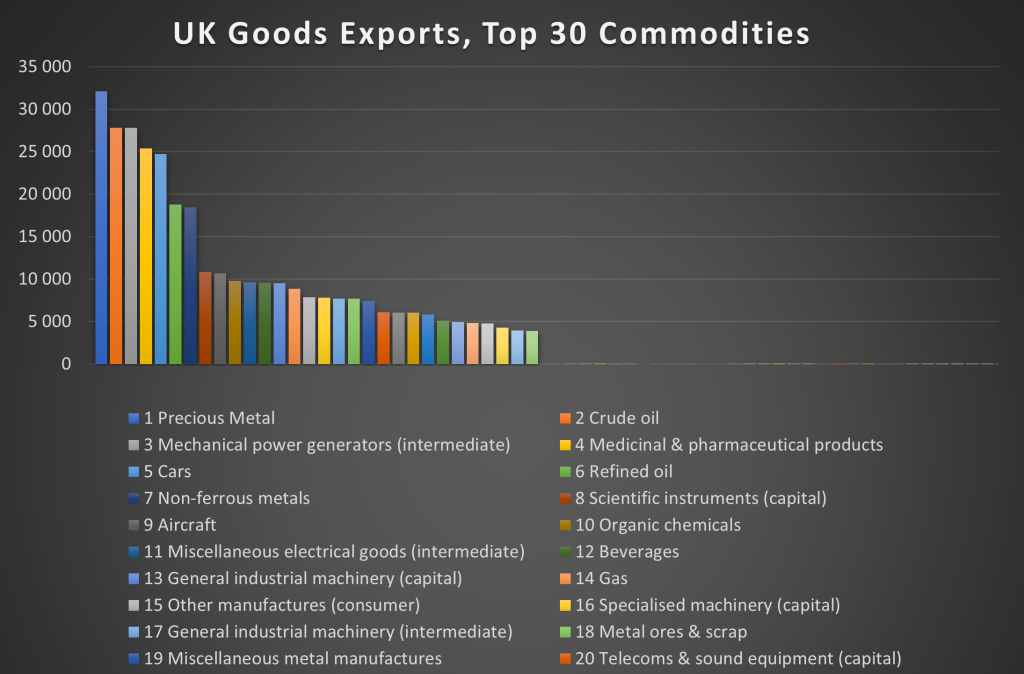 (Also published on LinkedIn)
In this edition of Export News from Expordite, we'll cover the top 10 UK export news and headlines from week 32 of 2023 — August 7th-13th, 2023.
Key News:
ONS' UK Trade Figures for 2023
UK power flows set to swing to exports until start of winter
Blow to UK salmon industry as trial post-Brexit export scheme halted
General Export News
"The value of goods exports increased by £0.6 billion (1.8%) in June 2023 because of a rise in exports to non-EU countries, while exports to the EU remained stable.
Exports to the EU remained stable in June 2023, with a £0.6 billion fall in exports of fuels being offset by a £0.3 billion increase in machinery and transport equipment and smaller increases in exports of chemicals and miscellaneous manufactures (Figure 5). The fall in exports of fuels was because of reduced exports of crude oil to France and Germany. Increases in mechanical machinery to Turkey and cars to Belgium were the main contributors to the rise in exports of machinery and transport equipment.
Exports to non-EU countries increased by £0.6 billion (3.8%) in June 2023. This rise was mainly because of a £0.6 billion increase in machinery and transport equipment exports, primarily of aircraft to Qatar and mechanical machinery to Singapore."
Source: Office for National Statistics
"A guarantee from UK Export Finance (UKEF) has secured a £50 million loan for global industrial fastenings group Trifast, a UK listed PLC. This builds on £3.5 billion of new, direct support which UKEF gave to the UK manufacturing sector in 2022-23.
The Export Development Guarantee issued by UKEF backs financing arrangements from HSBC, NatWest, and Citi that will support Trifast in developing its export business.
With headquarters in East Sussex, Trifast employs 500 people in the UK from a total global workforce of over 1,300; it is an international specialist in the design and manufacture of industrial fastenings. Serving more than 5,000 companies over three continents, it supplies to a range of key sectors like light and heavy vehicle production, health & home, energy, technology, infrastructure, and general industry."
Source: GOV.UK
"The government's Export Control Joint Unit (ECJU) regularly publishes 'Notices to Exporters' (NTEs) to help keep businesses updated on key regulatory changes and licensing requirements.
Users can receive them direct by subscribing here.
The IOE&IT Daily Update here summarises some of the most recent NTEs to be issued."
Source: The Institute of Export & International Trade
"British exports to a close Kremlin ally accused of helping Russia evade sanctions have risen sharply since the invasion of Ukraine.
According to government trade data, UK goods exports to Kyrgyzstan jumped by more than 4,000 per cent in 2022/23, with overall exports, including services, to the country more than doubling.
Over a similar period Kyrgyz exports to Russia also doubled, leading to concerns that Western goods were being exported into Kyrgyzstan, before being sent on to Russia.
In recently released UK Government data, total UK exports to Kyrgyzstan increased by 264 per cent to £51m, with the export of goods jumping 4,100 per cent to £42m in the year until March 2023, up from £1m the preceding year."
Source: iNews
"The departure of the UK from the EU single market and customs union at the end of 2020 marked a significant shift in the trade dynamics between the two entities. The complexities of post-Brexit relationships are further compounded by external factors such as the Covid pandemic and geopolitical tensions, making it challenging to isolate the direct effects of Brexit on trade.
Understanding these dynamics has become crucial for strategic planning and decision-making as businesses begin to trade in the EU from the outside."
Source: East Midlands Business Link
"The UK is forecast to become a net exporter of electricity over coming months, reflecting cheaper carbon costs for generators versus those on the continent, according to analysts at S&P Global Commodity Insights.
August could be the first net export month since last November, according to a weekly report published Aug. 3 with July imports already down sharply from a record 4.3 GW in May.
"Based on the current discount in UK carbon costs, we expect GB baseload power prices to move to the bottom of the European stack for September and into early Q4-23, with net exports forecast at an average of 1.6 GW between September and November," said Raymond Shi, European power analyst at S&P Global."
Source: S&P Global Community Insights
Food Export News
"Five export companies from the UK joined us in the British Meat Pavilion at the World Food Expo (WOFEX) in Manila to explore further opportunities for pork and beef – the two most popular red meat proteins in that market.
The show provided a platform for them to meet with key importers and other stakeholders in the market, to build on existing business relationships and develop new potential opportunities.
It followed the recent launch of our new export strategy Beyond Borders, which is aimed at increasing market access and export sales while encouraging and supporting more businesses to export.
The Philippines is the third largest pork export market for the UK and in 2022, the UK shipped pork and beef worth a total of £58.5m to the nation."
Source: AHDB
"The National Sheep Association is encouraged by emerging export markets for British lamb across the globe – and supportive of AHDB activity to help exporters exploit opportunities, including a trade mission to Kuwait next month.
Phil Stocker, NSA chief executive officer, said: "NSA is enthused by emerging opportunities for UK-produced lamb and the recently launched AHDB Beyond Borders report, which highlights existing and future export opportunities and is an important part of work by all UK levy bodies to increase market access."
Source: The Northern Farmer
"Scottish salmon export sales jumped by 9% in the first half of 2023, with major growth in the Asian and American markets.
New figures show that salmon from Scotland – which is the UK's largest food export – recorded a value of £306m between January and June.
The largest increases by value were to the US, China, Poland and Taiwan, while there was also huge percentage growth in the Netherlands, Singapore, Japanese and Spanish markets.
France remains by far the top international destination for Scottish salmon, and although sales to the country dipped 5% in the first half of the year, this was more than offset by wider global demand."
Source: Insider
"A trial of a system designed to cut red tape for fish exporters after Brexit is to end without an immediate replacement, causing dismay in the salmon industry.
The digitisation of the paper health certificates required for all fish and chilled food being exported to Europe was intended to save traders time and up to £3m on post-Brexit paperwork.
But the Department for Environment, Food and Rural Affairs (Defra) has told those companies involved in a pilot scheme, which has been in place since September 2021, that the scheme will end. It has not mentioned any replacement. "Whilst moving to a fully digital service for export health certificates remains our ambition, we are planning to bring the current exercise to a close," an official wrote to them."
Source: The Guardian
Want to get more international trade content straight to your inbox?
Sign up to Expordite Updates or come see us at Going Global Live in November!